I am thrilled to announce that my
Royal Wedding Cake
came runner up in the
Good To Know Royal Wedding Bake Off
! Read what they had to say about it and view the winner and other entrants by clicking
here
.
On that note, I am going to share the recipe for the top tier… a light lemon sponge with lemon curd buttercream.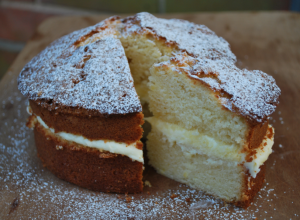 You can bake this cake either in two tins or in one deep tin. Having tried it both ways, I find that two tins gives a much lighter and airier sponge.
Ingredients
for the sponge
175g unsalted butter, softened and diced into cubes
for the lemon sugar syrup
for the buttercream
40g unsalted butter,
softened
50g good quality British lemon curd such as English Provender or Duchy Originals
Method
Preheat the oven to fan 170

°

C and grease and line two 6″ cake tins or one 6″ deep cake tin.

Sift the flour and baking powder into the large bowl of a mixer.

Add the diced butter, sugar and lemon zest.

Start the mixer slowly and once the ingredients start to combine, slowly pour in the eggs.

Once the mixture is evenly blended and smooth, stir through the lemon juice.

Divide the mixture evenly between the two cake tins and bake in the centre of the preheated oven for 30-35 minutes until the cakes are well risen, springy to the touch and a skewer inserted into the middle comes out clean. If baking in one tin, the cake will take 55 minutes to 1 hour.

Leave the cakes in the tin to cool for 5 minutes before turning onto a cooling rack, removing the greaseproof paper and leaving to cool completely.

Whilst the cake is cooling, make the lemon sugar syrup by putting the lemon juice, sugar and water in a small saucepan and gently bringing to the boil over a low heat. Once the the sugar has dissolved, remove the pan from the heat and set aside to cool.

To make the buttercream simply cream together the butter, sifted icing sugar and lemon curd for 5 minutes until soft, pale and fluffy.

Once the cake is cooled, arrange the sponges so that the two sides that are going to be sandwiched together are face up.

Brush these sides with the lemon sugar syrup.

Now spread the buttercream on the bottom half and sandwich the two halves together.

Dust with icing sugar when ready to serve.