Another tea-time classic for you…Lemon & Poppy Seed Drizzle Cake. This is a light, moist sponge with a triple citrus hit. The poppy seeds, as well as looking pretty, give the cake a lovely crunch. I baked this one in a 21x11cm loaf tin but I think it would also work well in 18.5x9cm tin for a narrower and taller loaf. Just bear in mind that the cooking time may vary in the smaller tin.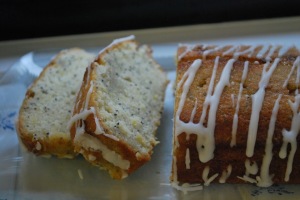 Ingredients


for the cake batter
135g unsalted butter, softened
135g golden caster sugar
1 lemon, zest and juice
2 eggs
100g plain flour
35g self-raising flour
10g poppy seeds
for the syrup
juice of 1 lemon
50g golden caster sugar
100ml water
for the drizzle
1 tsp lemon juice
40g icing sugar, sifted
Method
Preheat the oven to 160

°

C and line a 21x11cm loaf tin.
Start by making the cake batter.
Sift the two flours into a large bowl and add the poppy seeds.
In a separate bowl cream together the butter, sugar and lemon zest until pale and fluffy.
Gradually add the eggs mixing all the time and add a tablespoon of the flour to prevent the mixture from curdling if needed.
Now gently fold in the flour and poppy seeds.
Finally fold in the lemon juice and stir until evenly combined.
Spoon into the lined loaf tin and bake in the centre of the oven for 45-50 minutes until a skewer inserted into the middle comes out clean.
Meanwhile, make the lemon syrup by placing the lemon juice, sugar and water in a small saucepan over a medium heat and boiling until reduced by half.
When the cake is done, remove it from the oven and immediately prick holes all over the top of the cake with a skewer.
Pour the lemon syrup al over the top of the cake ensuring that it seeps down the holes.
Leave the cake to cool completely in the tin placed on a wire rack.
Once the cake is completely cool, prepare the lemon drizzle by sifting the icing sugar into a small bowl and pouring over the lemon juice.
Mix the sugar and lemon juice until smooth.
If needed, add more lemon juice a drop at a time until you achieve desired drizzling consistency.
Remove the cake from the tin and paper and get drizzling!
Leave the cake for at least 15 minutes before serving so that the drizzle has time to set.
Serves 8