I've recently become a little addicted to
instagram
and it was here that I came across a new food trend called the "clean diet". My boyfriend and I are keen to change our eating habits, as when life gets busy we are all too guilty of reaching for convenience foods. One of my bad habits is having cereal for dinner, which may not seem like the end of the world but it's certainly not a balanced way of eating and will not set you up with all the nutrients you need for a healthy diet.
On paper, eating "clean" seems to make perfect sense – avoiding processed foods, eating plenty of fruit, vegetables and whole foods, obtaining a good balance of protein and carbs, eliminating refined sugars and cooking your own meals from scratch rather than relying on pre-packaged products. If you delve a little deeper into the diet, you can also look into incorporating as many "superfoods" as possible, i.e. foods considered to have many health benefits.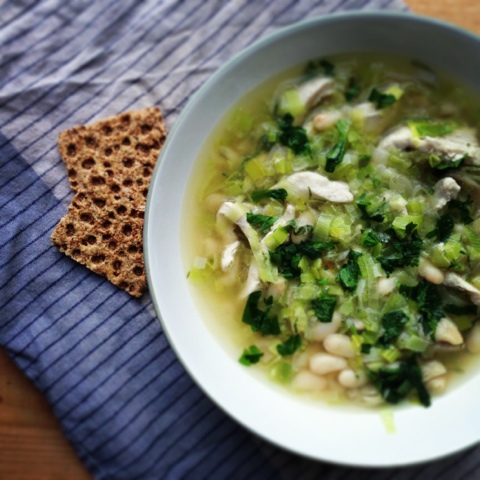 I've just got back from a lovely holiday, only to return to work with a stinking cold, so what better reason to embark upon a new healthy eating plan. My Chicken, Leek & Cannellini Bean Broth is the perfect remedy for anyone suffering the effects of the sudden seasonal change. Give it a go and tell me what you think!
Ingredients
2 leeks, trimmed and finely sliced into half moons
8 sage leaves
small handful of flat-leaf parsley
2 large chicken breasts, sliced into thin strips
125g oyster mushrooms, torn in half with your fingers
175g (drained weight) tinned cannellini beans
800ml chicken stock, boiling
Method
Begin by placing a large saucepan on a medium heat.
Add a drizzle of olive oil followed by the sliced leeks.
Sweat the leeks for approximately 5 minutes until softened and translucent.
Meanwhile, finely slice the sage and the parsley stalks and add to the pan.
Roughly chop the remaining parsley leaves and put them aside for garnish.
Add the sliced chicken breasts to the pan and cook for a few minutes, whilst stirring until the outer flesh turns white.
Now add the torn oyster mushrooms and drained cannellini beans and cook for a further minute whilst stirring.
Add the boiling chicken stock, bring back to the boil and simmer gently for around 5 minutes. This cooking time could vary depending on how thinly you slice your chicken. To test if it is ready, remove one piece of chicken to a chopping board and slice it in half – if the chicken is white all the way through, then your broth is ready!
Give it a taste and add seasoning as required.
To serve, ladle the broth into bowls and top with the roughly chopped flat-leaf parsley.
Makes 2 generous portions or 3 as a light supper or lunch.