Bananas seem to ripen ever so quickly in this weather so here's a cracker of a recipe to use up said overripe bananas. I created this recipe on a bit of a whim, ended up throwing a load of ingredients together and (thankfully) came up trumps! It even got my hard to please dad's seal of approval and had him coming back for more and more!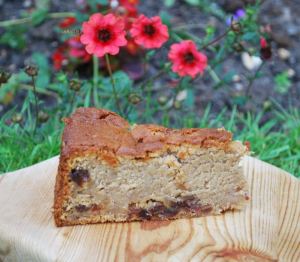 Ingredients
100g sultanas
50ml dark rum
40g crystallised ginger, diced
2 bananas
175ml milk
25ml lemon juice
250g unsalted butter, softened
300g soft brown sugar
1 tsp vanilla
4 medium eggs, lightly beaten
200g self-raising flour
1 heaped tsp cinnamon
Method
Preheat the oven to fan 160

°

C and grease and line a 9″ cake tin.
Place the sultanas and rum in a small saucepan and heat gently for a few minutes until the sultanas are plump and juicy. Remove from the heat and set to one side.
Measure out the milk into a jug and stir in the lemon juice. Leave to sour for 5 minutes.
Cream together the butter and sugar for a good 5 minutes until pale and fluffy.
Sift together the flour and cinnamon and add a tablespoon to the creamed mixture.
Now gradually add the eggs to the creamed mixture until they are all evenly incorporated and the mixture is smooth.
Add one third of the flour mixture to the creamed mixture and mix until incorporated.
Now add one third of the soured milk.
Continue to alternately add the flour and milk until it is all evenly combined.
Mash the banana into the sultanas and rum and add the diced crystallised ginger.
Finally stir this mixture into the batter and once evenly incorporated pour it into the prepared tin.
Bake in the preheated oven for 1 hour 30 minutes until a skewer inserted into the middle comes out almost clean.
N.B. The skewer will not come out as clean as it would from a sponge cake but as long as there is no obvious cake batter it should be done.
Leave to cool for 10 minutes before turning out onto a wire rack to cool completely.