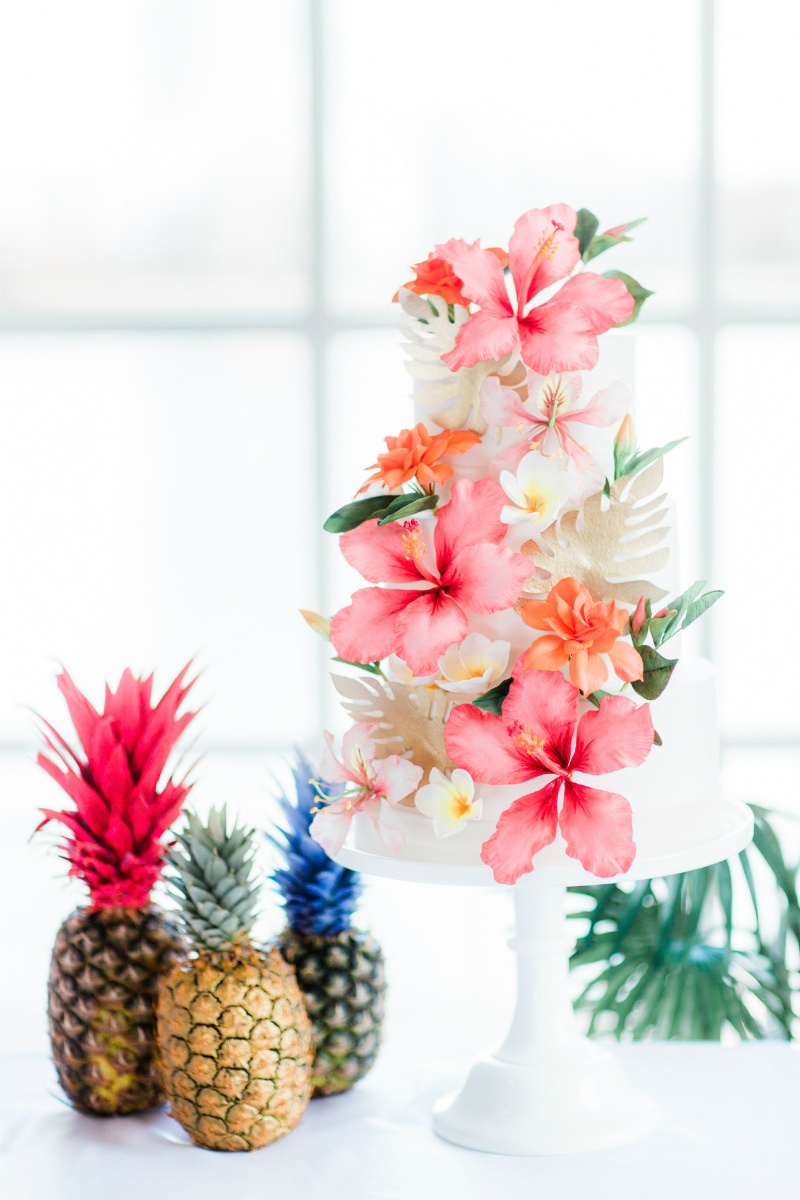 As I'm writing this, it's a rather grey and gloomy January day outside of my window so I thought I would share this Tropical Paradise Wedding Inspiration shoot as the perfect antidote! So crank up the heating and whisk your mind away to warmer climes…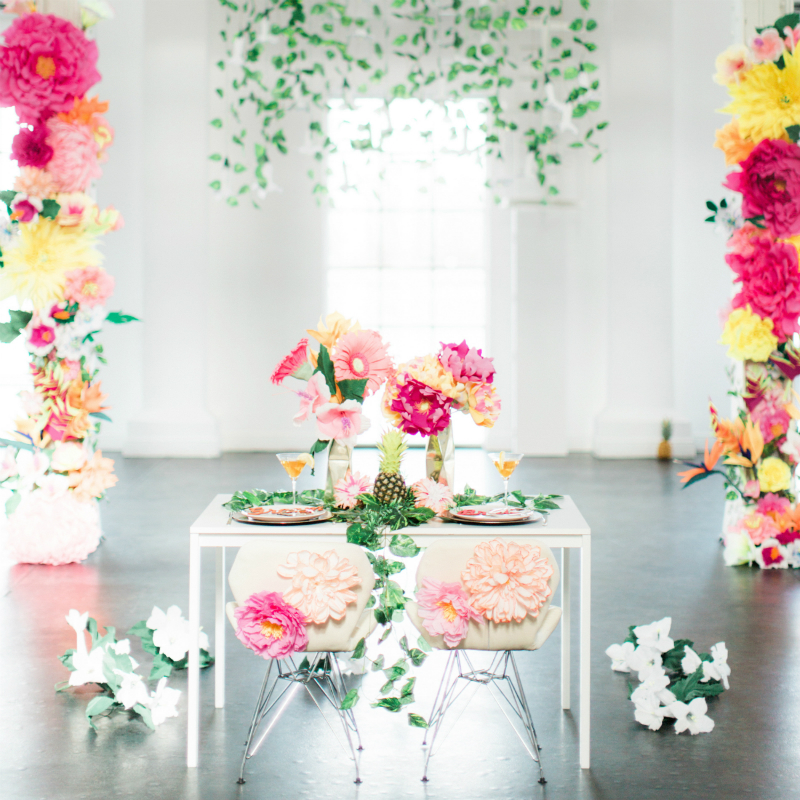 The shoot was put together by stylist Charlotte Munro and shot by the wonderful San of Sanshine Photography. The concept for the shoot came from the idea of bringing a destination feel to a British wedding. In a country that is notorious for unreliable weather, we wanted to show you that you can bring the outside in with these colourful and light-filled wedding ideas.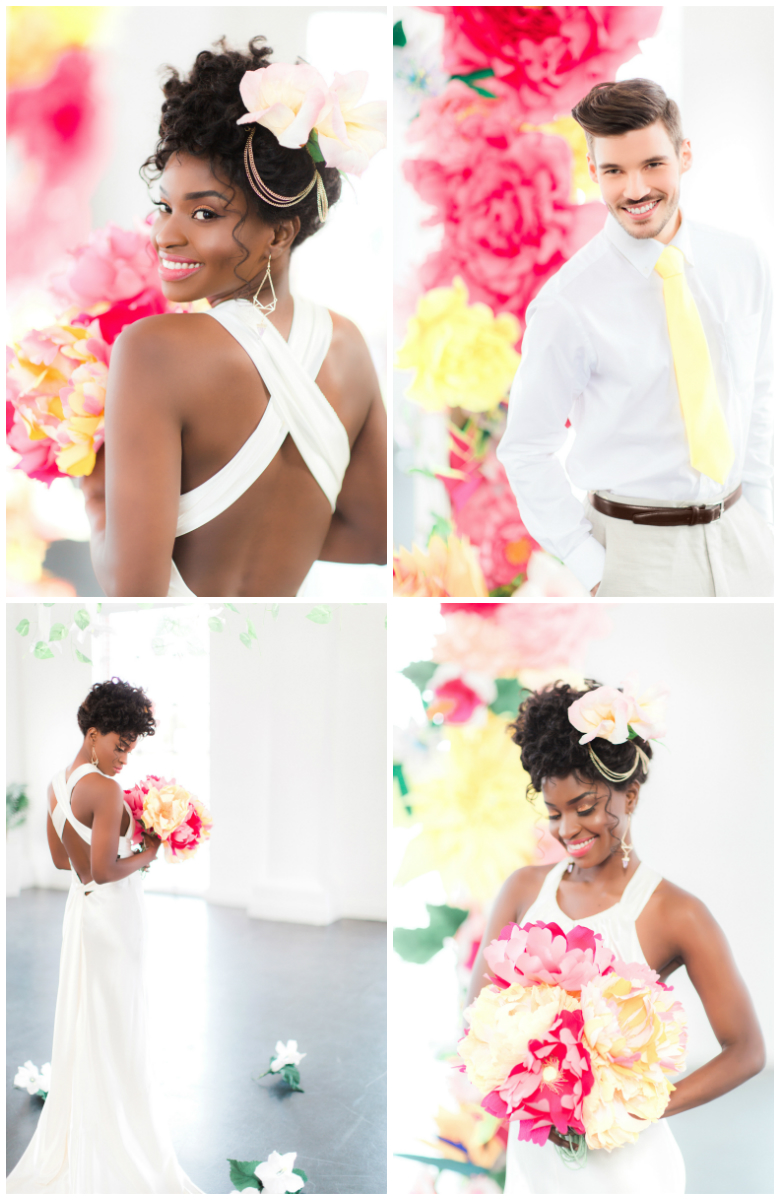 Choosing a light and airy venue with plain walls is key to achieving this look. The West Reservoir Centre in Stoke Newington provided the perfect blank canvas for us with it's large windows which flood the vast chamber with an abundance of natural light no matter what the weather is doing outside!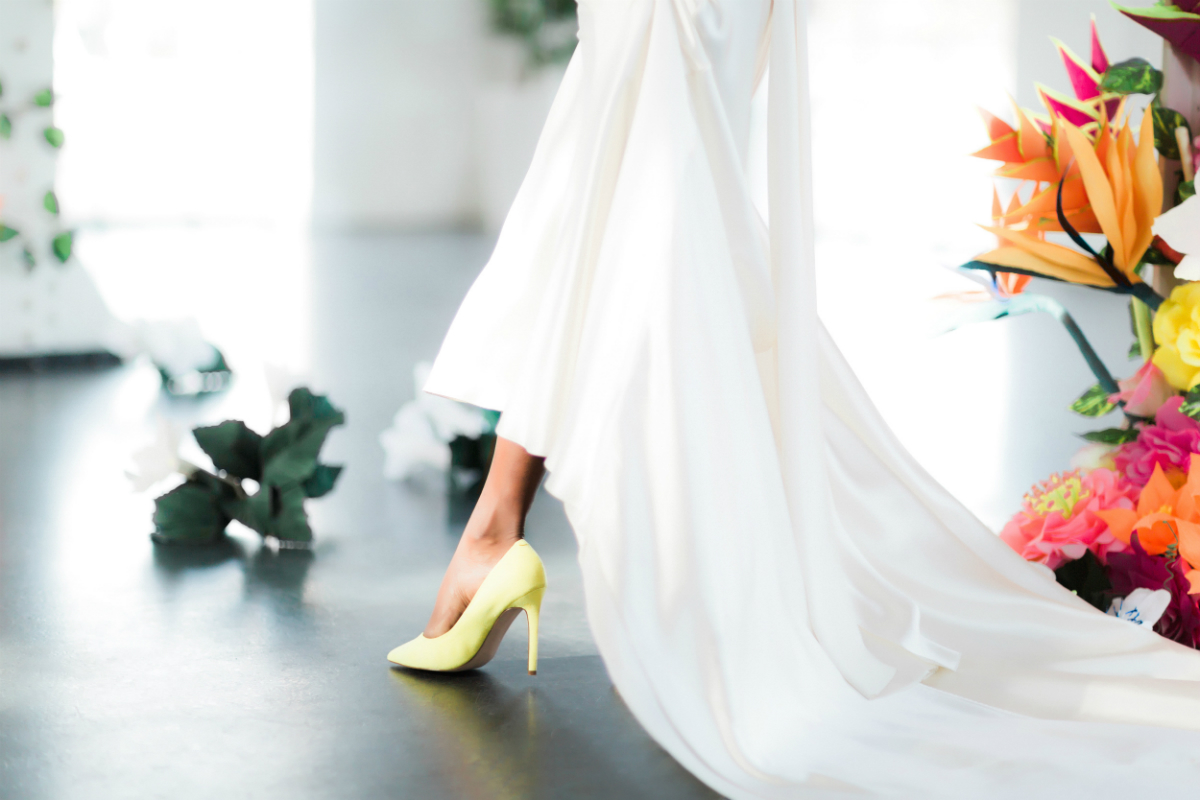 Cue Susie of Tissue Blossoms to inject that colour and tropical paradise wedding flavour with her incredible paper flower creations:
"I turned to nature for inspiration. Birds of paradise, hibiscus, dahlias, lisianthus, passion flowers, orchids, heliconia, giant jasmine, gerbera and roses… So many ideas! I started a 6 week project of individually hand-cutting and crafting these beautiful unique works of art. Designing with paper creates infinite possibilities where our cold British nature can't. A stylist's dream is to have no worries about availability, longevity, size, colour, shape of flowers or allergies that the wedding guests might have, and this is where my flower creations out of paper truly shine. It was a privilege working on this project and seeing the flowers of my imagination come to a reality, knowing they make a lasting artful keepsake as well as a beautiful backdrop for any couple!"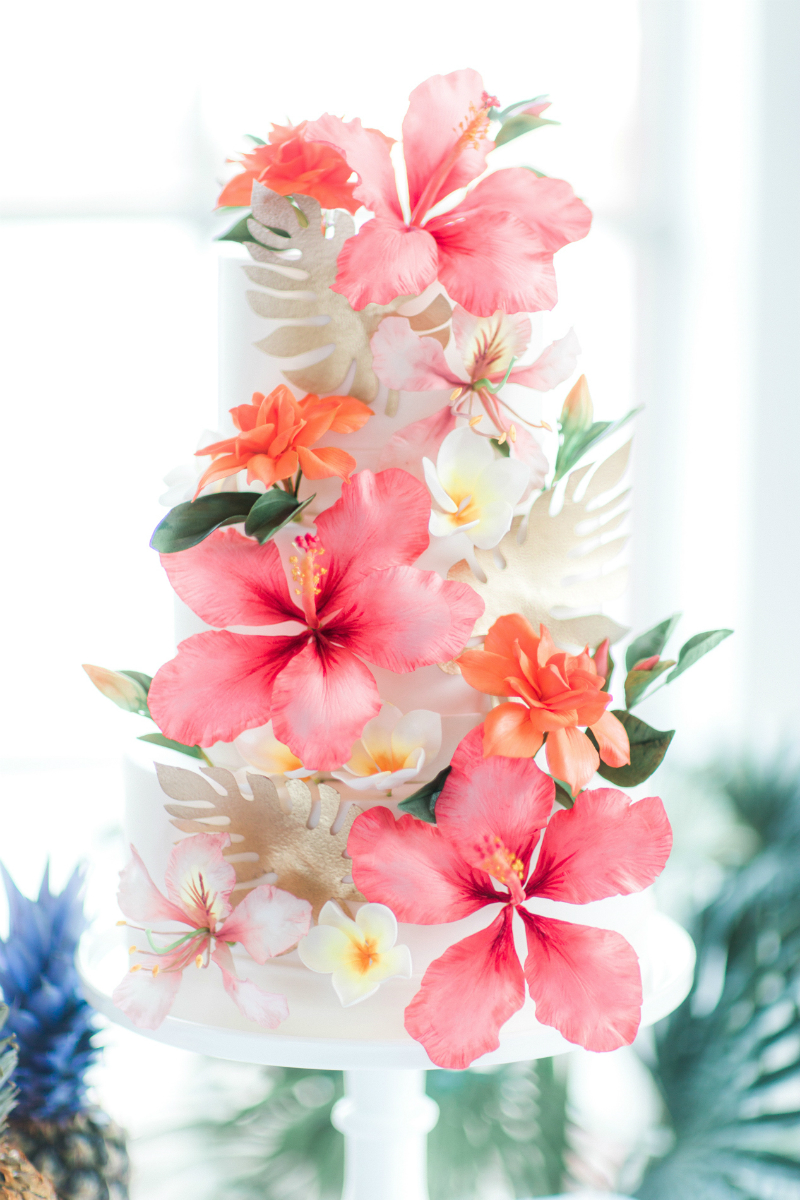 For the cake I wanted the sugar flowers to speak for themselves and to show that you can have fun with your theme! Keeping the icing plain white and finished with a simple silk ribbon, I went big and bold with the handcrafted sugar flowers. I love experimenting with flowers and colours outside the wedding norm and so this shoot was the perfect opportunity to try something new. I created pink hibiscus, orange gardenia, pale pink bauhinia and yellow frangipani with a few wafer paper gold leaves to match the overall tropical theme.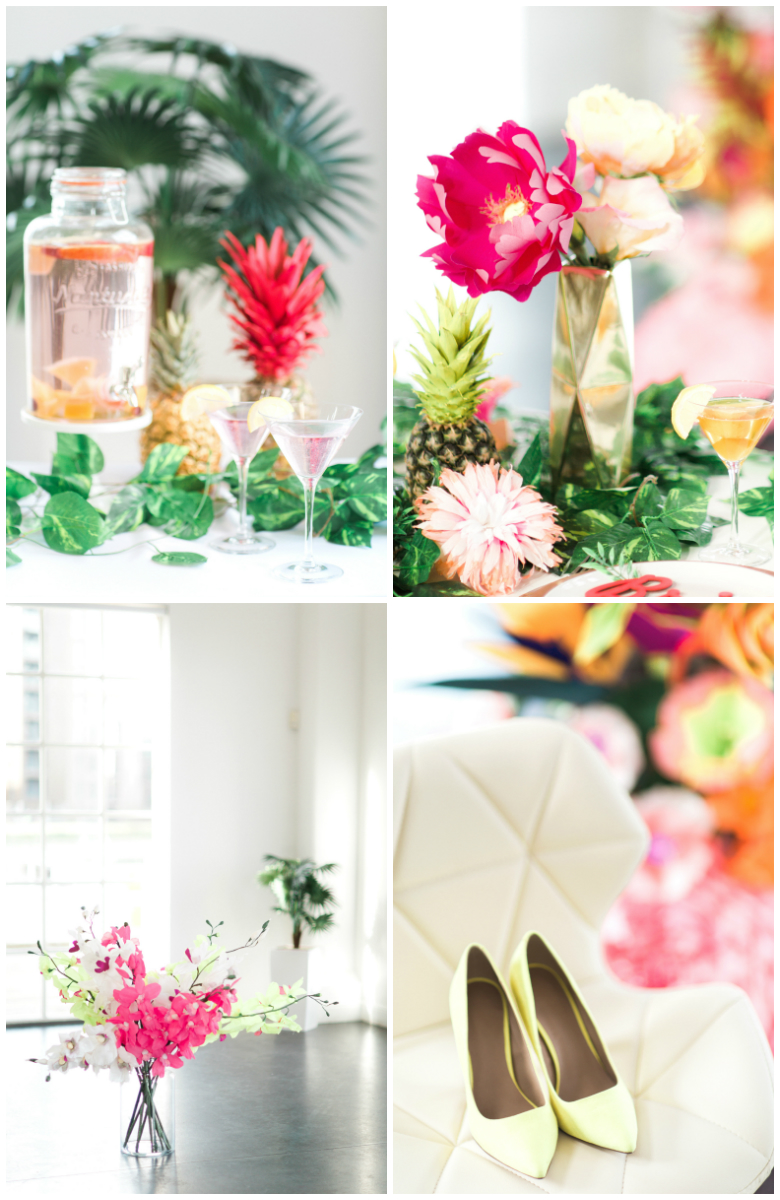 I love all of Charlotte's little styling flourishes, from the fluoro pineapples, pretty pink and orange cocktails and the vibrant laser cut mdf place settings which can then be painted in your colour of choice.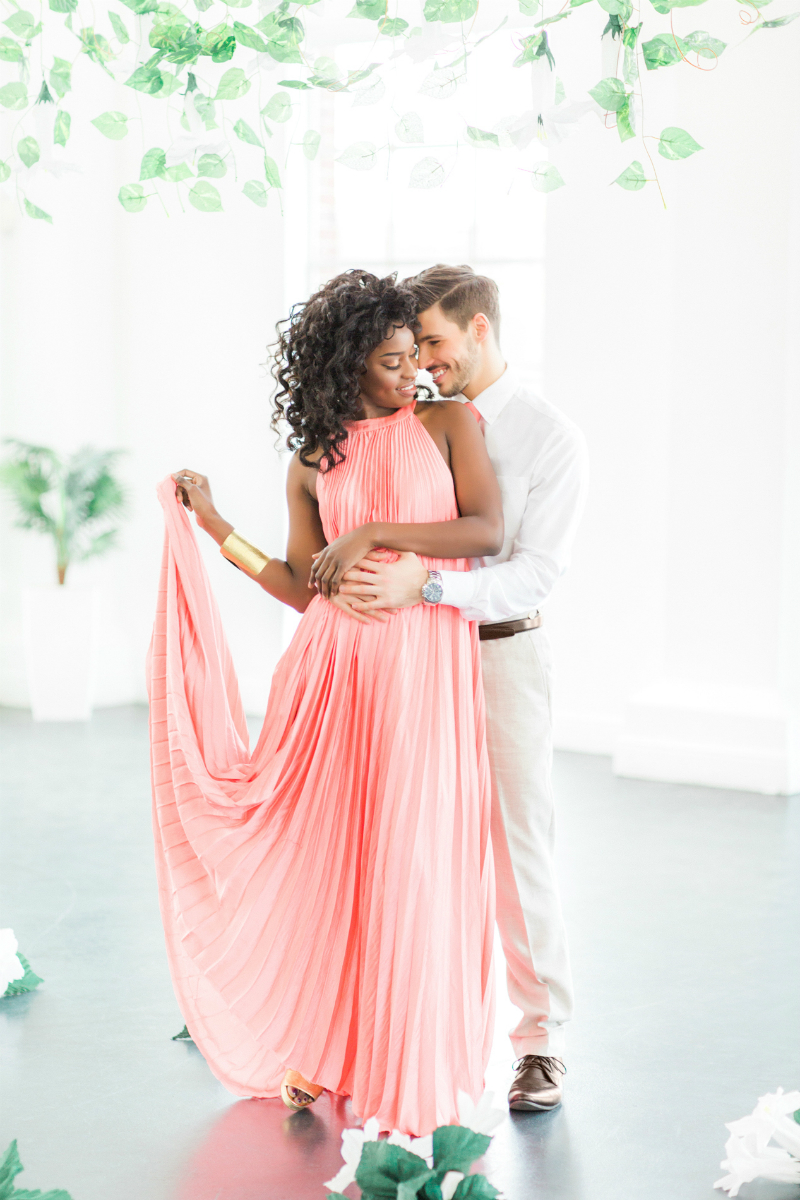 The real key to fully achieving this look though is of course having a fantastic photographer who specialises in natural and ambient light photography such as the wonderful Sanshine Photography. She is a true master!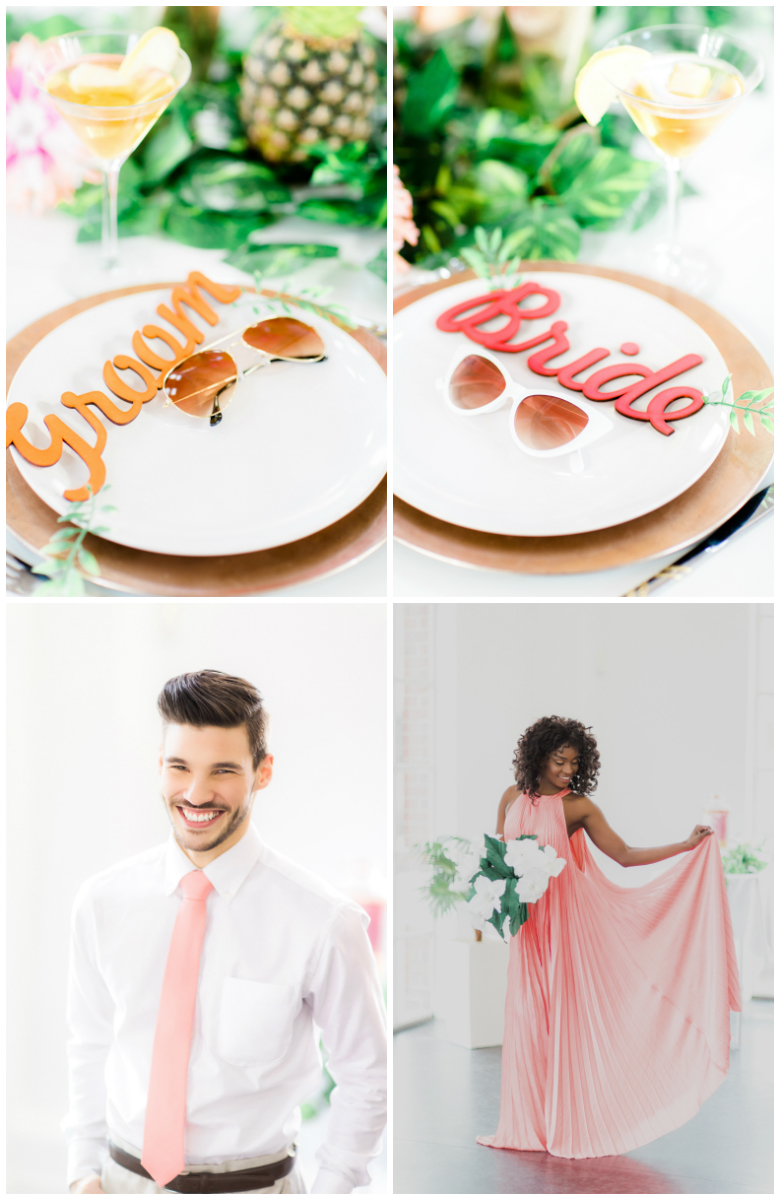 I do hope you have enjoyed browsing our Tropical Paradise Wedding and that it can hopefully inspire you in your wedding planning!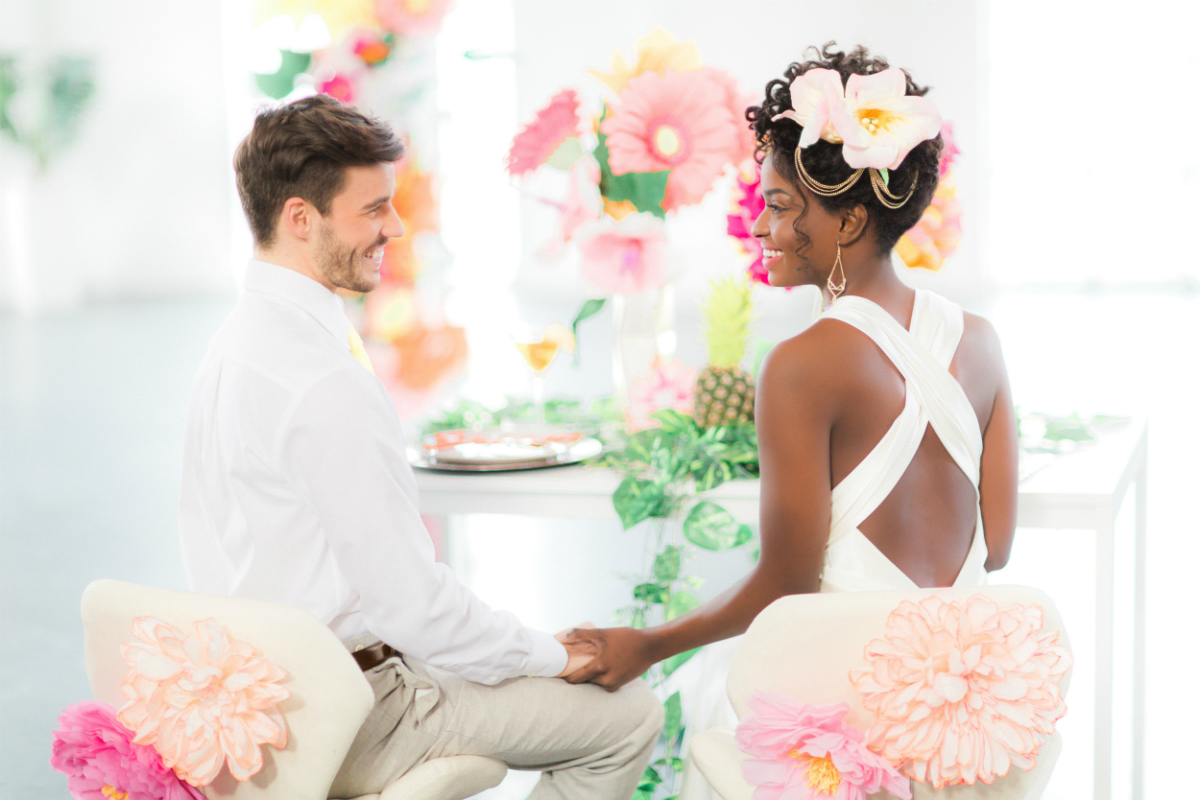 Photography: Sanshine Photography | Styling: Charlotte Munro | Venue: West Reservoir Centre London | Hair: Roisin Kinch | Make-Up: Nina Bains | Cake: Little Bear Cakery | Paper Flowers: Tissue Blossoms | Suit: Jon Kruger Ivory Dress: Amanda Wakely at The Bijoutique | Coral Dress: Free People | Shoes: ASOS | Bride: Jess Bergman | Groom: Philipp Gelter