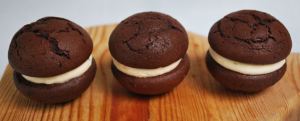 Whoopie pies are one of those crazes like cake pops that I have been meaning to try for ages. I have to rather sheepishly admit that the only ones I have ever tried have been ones from the supermarket! Shame on me! So it was definitely time to put a recipe to the test at home, and where better to look for inspiration than my new copy of the Hummingbird Bakery Cake Days. I have adapted the recipe slightly, replacing the milk and yoghurt with buttermilk and adding extra vanilla. I have also teamed it with a zesty lime buttercream instead of the suggested sweet and sickly marshmallow fluff filling. The lime cuts through the rich chocolate sponge beautifully providing the perfect accompaniment. Hope you enjoy my foray into the world of the whoopie pie…I have a feeling there will be more of these to come!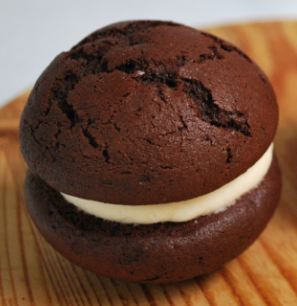 Ingredients


1 large egg
150g caster sugar
150ml buttermilk
1 tsp vanilla extract
75g unsalted butter, melted
200g plain flour
80g cocoa powder
0.75 tsp bicarbonate of soda
0.25 tsp baking powder
for the buttercream


80g unsalted butter, softened
250g icing sugar, sifted
zest and juice of 1 lime
Method
Preheat the oven to Fan 170

°

C and line four baking sheets with greaseproof paper.
In a large mixing bowl, on a medium speed, beat together the egg and caster sugar until light and fluffy.
Now add the buttermilk and vanilla extract followed by the melted butter and beat until thoroughly combined.
In a separated bowl, sift together the flour, cocoa, bicarb and baking powder.
Add half of the dry mixture to the wet and stir until combined before doing the same with the second half.
Once the mixture is thoroughly combined and smooth, spoon it into a piping bag fitted with a plain nozzle.
Pipe nine 3.5cm/1.5inch circles onto each baking sheet. You should end up with 36 in total which will make 18 whoopie pies.
Dip your finger in a little cold water and smooth the top of each blob of dough so that you have smooth and even circles.
Place in the preheated oven for 8 minutes until the sponges are springy to the touch.
Remove from the oven and leave to cool completely on a wire rack.
Meanwhile, make the buttercream by beating the butter and icing sugar until they come together.
Once smooth, add the lime zest and with the mixer running, slowly pour in the lime juice and continue beating until the buttercream is smooth, light and fluffy.
Pair up the little sponges so that each half is paired with one of an even size.
Pipe a small blob of the buttercream on one half and sandwich together with the other half.