This is one of my favourite winter warmers. It never fails to cheer me up on cold wet wintry day. It can also be tweaked slightly in terms of herbs and spices to match the type of sausages you use. Here I've used Waitrose Chorizo Style Sausages which are made with smoked red peppers, ground paprika and fresh garlic, and therefore compliment the flavours of the casserole. You could for example substitute the paprika and parsley for basil and oregano and team with an Italian Sausage as an alternative. Also, try out different pulses. I've found that red lentils, yellow split peas and green lentils work well together for this flavoured casserole but it's always worth experimenting with different combinations. The basic recipe is there to play with…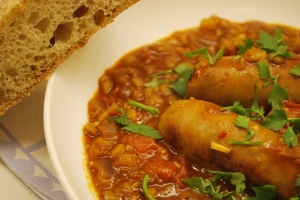 Ingredients
2 tblsp olive oil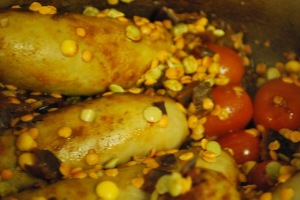 1 medium red onion
2-4 garlic cloves, crushed
4-6 sausages
125g baby plum tomatoes
35g red lentils
35g yellow split peas
35g green lentils
1 tblsp tomato puree
1 tblsp paprika
chilli flakes (to taste)
50 ml red wine
450ml chicken stock
handful of fresh parsley, chopped roughly
Method
Over a low heat, fry the onion in half the olive oil for approximately 10 minutes until soft, adding the garlic in the last 2 minutes.
Remove the onion and garlic from the pan and put in a bowl to one side.
Heat the remaining olive oil and turn the heat up to high.
Add the sausages and cook for 5-8 minutes, turning regularly until medium brown in colour.
Add the tomatoes, onion and garlic, paprika, chilli flakes and stir thoroughly.
Now add the red wine followed by the lentils and peas and chicken stock.
Season, bring to the boil before turning down to a simmer and putting the lid on.
Allow to simmer, stirring occasionally, for 30 minutes with the lid on, and 15 further minutes without the lid until the lentils and peas are tender and the majority of the liquid is absorbed.
Spoon into deep plates, scatter with parsley and serve with warm crusty bread.
Serves 2