After the success of my Cookies 'n' Cream Cupcakes I decided to give another American flavour a go. Although, tempted to try out the Hummingbird Bakery Strawberry Cheesecake Cupcake recipe, I opted to create my own recipe instead, using raspberries. Although out of season, you can get excellent frozen packs of raspberries from Waitrose which are very good value. You don't even need to bother defrosting them and they will in fact keep their shape better when folded into the batter if slightly frozen.
This cupcake is not for the fainthearted. It consists of a vanilla sponge rippled with raspberries and digestive chunks and topped with vanilla cream cheese icing and digestive crumbs. It is incredibly rich so probably best left for those with a really sweet tooth! I'm sure any Hummingbird Bakery fans will love this recipe though as they certainly don't hold back on the sugar with their cakes!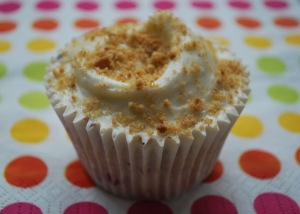 Ingredients


70g unsalted butter, softened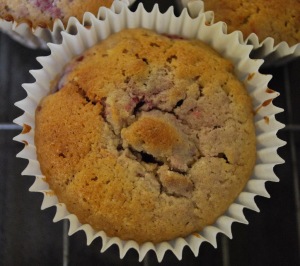 70g golden caster sugar
1 egg
½ tsp vanilla
55g plain flour
20g self-raising flour
1 tsp milk
50g raspberries, 5 left whole, the rest roughly broken up
2 digestive biscuits roughly broken into chunks
for the icing
10g unsalted butter, softened
50g full-fat cream cheese
100g icing sugar sifted
½ tsp vanilla extract
½ digestive biscuit, crumbled


Method
Preheat the oven to Fan 160

°

C and line a muffin tray with 5 muffin size cases.

Sift the two flours together in a large bowl.
In a separate bowl cream together the butter and sugar until pale and fluffy.
In a small bowl, lightly beat the egg and vanilla.
Slowly beat the egg mixture into the creamed butter and sugar.
Gradually add the flour until incorporated before adding the milk.
Once the mixture is smooth and evenly mixed, gently fold through the digestive and raspberry chunks, leaving the whole ones to one side.
Half fill each case with the cake batter.
Place a raspberry in the middle of each one on top of the batter and lightly push down before spooning the remaining cake mixture on top to cover.
Place the tray in the oven for 18-20 minutes until the cakes are golden brown on top and a skewer inserted comes out clean.
Leave to cool completely on a wire rack.
Meanwhile make the icing by firstly beating together the butter and cream cheese and vanilla.
Then gradually add the icing sugar and beat for a few minutes until smooth and thickened.
Once the cakes are cooled, spread the icing on top of them using a small flat knife.
Scatter with digestive crumbs for the finishing touch.
Makes 5 cupcakes