Ever since trying The Cheesecake Factory's Oreo Cheesecake on a trip to San Francisco a year ago, I've wanted to recreate it at home. Having recently discovered the ultimate baked New York cheesecake recipe from Hummingbird Bakery, I decided to adapt it into a smaller Oreo version. This is a much more modest version of the one I had in California (where one slice was enough to feed a family of four!) but I think it matches up taste-wise. Cheesecake connoisseurs will have to try it and tell me what they think!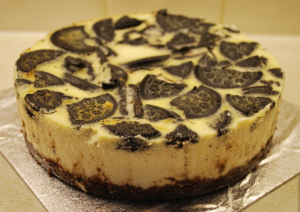 Ingredients


for the base
115g digestives
1 tblsp cocoa powder
85g unsalted butter, melted
for the filling
600g full-fat cream cheese
125g golden caster sugar
1 tsp vanilla extract
2 large eggs
abour 3/4 of a pack of Oreo cookies, broken into large pieces
Method
Grease the base of a 6″ springform tin and preheat the oven to 150

°

C.
Start by making the biscuit base. Blitz the digestives and the cocoa powder together to a fine crumb.
Stir in the melted butter until evenly blended and press into the base of the springform tin.
Chill in the fridge whilst you prepare the filling.
Gently beat together the cream cheese, caster sugar and vanilla extract.
Add the eggs one by one and beat until smooth.
Stir in the oreo chunks before pouring the mixture into the springform tin on top of the biscuit base.
Place the tin in a deep tray and fill the tray with water so that it comes half way up the tin.
Place the tray in the oven for 25-30 minutes until the cheesecake has firmed around the edges and it has taken on a very slight colour. It will still seem really really wobbly in the middle but don't fret! It will set up beautifully after a night in the fridge!
Remove the springform tin from the water and leave to cool on a cooling rack before placing in the fridge overnight.
When ready to serve, run a palette knife around the edge of the tin before releasing the spring.