This recipe is inspired by a Fiona Cairns' recipe I made a while back for Pistachio and Orange Blossom Cake. I have adapted the orange mascarpone icing and syrup from that recipe and added a simple sponge flavoured with orange zest. The result is a moist sponge with a citrusy kick complimented by a lightly sweetened and fragrant mascarpone topping. Delicious? I think so!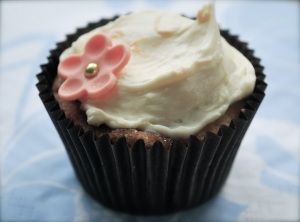 Ingredients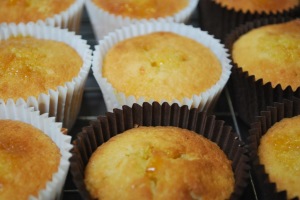 for the cake batter
125g unsalted butter, softened
125g golden caster sugar
grated zest of 1 orange
juice of ½ orange
2 eggs, lightly beaten
125g self-raising flour
for the syrup
juice of ½ orange
20g caster sugar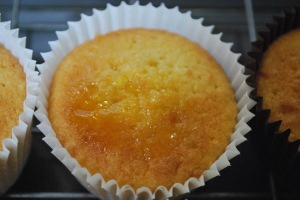 10ml orange blossom water


for the icing
175 g mascarpone
zest of ½ orange
½ tsp vanilla
½ tsp orange blossom water
30g golden caster sugar


Preheat the oven to Fan 160

°

C and line a large muffin tray with cupcake cases.

Start by making the cake batter: Cream together the butter, sugar and orange zest until pale and fluffy.

Gradually add the eggs, mixing all the time. Add a tablespoon of flour halfway through to prevent the mixture from curdling.

Once all the egg is incorporated, gently fold in the flour.

Finally fold through the orange juice.

Spoon into the cases, filling them two thirds full and bake in the oven for 15-18 minutes.

Meanwhile make the syrup by bringing the orange juice, sugar and orange blossom water to the boil in a small pan and reducing slightly until it has thickened. This will only taking a few minutes.

Once the cakes are lightly golden remove them from the oven. Prick 3 holes in the top of each cake and spoon a small amount of syrup over the holes.

Leave to cool completely in the cases on a wire rack.

Meanwhile make the icing by beating together the mascarpone, zest, vanilla, orange blossom and sugar until evenly blended.

Spread on top of the cooled cupcakes and decorate to taste!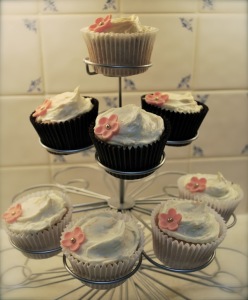 Testing out my new cupcake stand Christmas present!