I needed something sweet to take for the ladies on my dog walk this morning and being short of time I decided to quickly rustle up some cookies.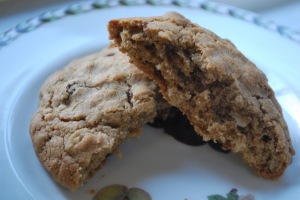 I have been meaning to try out this recipe ever since I came across it on one of my favourite blogs The Art of Being Perfect. It is an American recipe so I have converted it into metric and tweaked it slightly. However if you prefer American measurements, the original recipe is here. I think these cookies are a real success, a good balance in oats and fruit, and when eaten fresh they have a beautifully crisp exterior and chewy middle. I cannot recommend them enough!
Ingredients


300g plain flour
½ tsp baking powder
a pinch of salt
1 tsp cinnamon
175g butter, melted
200g brown sugar
100g golden caster sugar
1 tblsp vanilla extract
1 egg
1 egg yolk
150g oats
175g raisins or sultanas
Method
Preheat the oven to Fan 160

°

C and line 3 baking trays with greaseproof paper.
Sift together the flour, baking powder, salt and cinnamon into a large bowl.
In a separate bowl, cream together the melted butter and sugars until smooth.
Now add the egg, yolk and vanilla and beat for a couple of minutes until the mixture becomes paler and lighter.
Add the flour and beat until incorporated before adding the raisins and sultanas and stirring until just combined.
Roll the dough into balls (slightly larger than a golf ball) and place well spaced out onto the lined baking trays.
Place in the oven for 12-15 minutes until brown around the edges but still soft in the middle.
Leave to cool for a few minutes on the trays before transferring to wire racks.
Serve with a glass of milk.
Makes approx 18 cookies.