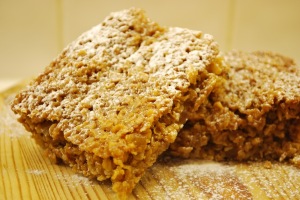 Another flapjack recipe for you but slightly different this time round. These are made with porridge oats as opposed to jumbo oats so they have a cakier texture. The ginger isn't too overpowering so those who aren't particularly partial shouldn't be put off. In fact the flavour of these flapjacks is most reminiscent of a brandy snap (minus the cream and tooth breaking crunch). All tasters have given this recipe a resounding thumbs and this is one of my new favourites. I urge you to try it…
Ingredients
175g unsalted butter
175g golden syrup
175g light brown soft sugar
350g porridge oats
2 pieces of stem ginger, finely diced
zest of 1 lemon
Method
Preheat the oven to Fan 140

°

C and grease and line an 8″ square tin.
Put the butter, golden syrup, diced stem ginger and sugar in a small pan and stir over a gentle heat until all the ingredients are melted together and smooth.
Place the oats, lemon zest and ground ginger in a large bowl and mix thoroughly.
Now pour the melted butter syrup mixture over the oats and mix together.
Pour the mixture into the tin and press down firmly and evenly.
Place in the oven for 40 minutes.
Remove from the oven and leave to cool in the tin on a cooling rack for 30 minutes.
Carefully remove the flapjack from the tin using the paper to help lift it.
Cut into 12 rectangles whilst still slightly warm. If you leave it to cool completely, it will be more difficult to cut.