You can't beat a traditional English scone so I thought it was about time I shared with you my favourite fruit scone recipe. The basics can be fiddled with to suit your taste but I love them quite plain with an abundance of juicy sultanas.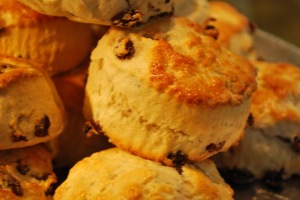 Eat them on the day, preferably whilst still warm, and serve with your choice combination of butter, jam and cream. If they don't all get eaten (unlikely as they're incredibly moreish!), simply freeze them on the day of baking and warm them through in the oven another time for an instant fresh tasting batch.
Ingredients


450g self-raising flour
2 tsp baking powder
a generous pinch of salt
85g refrigerated unsalted butter
85g golden caster sugar
125g sultanas
milk (up to 250 ml)
1 egg and a splash of milk beaten together to form an egg wash.
Method
Preheat the oven to Fan 200

°

C
Sift together the flour, baking powder and salt in a large bowl.
Dice the chilled butter into the flour and rub in the fat with your fingers until the mixture resembles fine breadcrumbs.
Stir through the sugar and fruit until evenly combined.
Gradually add the milk, stirring the mixture with a knife until it comes together to form a dough. The amount of milk seems to vary greatly so just keep adding it a tablespoon or so at a time until you reach the correct consistency. If it becomes too sticky just add a little flour.
Lightly flour a work surface and knead the mixture until you have a smooth dough.
Roll out the mixture about an inch thick and cut into circles before placing on a baking tray.
Brush each scone with egg wash and bake for 7-15 minutes depending on the size.
Time will vary greatly depending on the size of your scones. This recipe will make 12 large scones which usually take between 12 and 15 minutes. The scones should be a dark golden brown and should have lost their doughy texture. The base will be brown and when tapped on the bottom should give a hollow sound. If the scones are colouring too much and still seem doughy, turn the oven down 10 or 20 degrees.
For something a bit different, try them without or with different fruit and experiment with the addition of various spices.