This morning I had a bit of a clear out of the cupboards. After a job well done, I thought it only fitting to reward myself by creating a recipe using bits of ingredients that needed using up, thus killing two birds with one stone! Odd bits of sugar, nuts and dried fruit resulted in these yummy chewy cranberry, orange and macadamia cookies…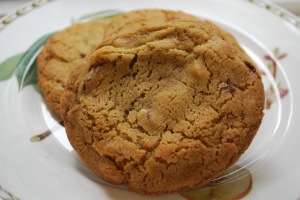 Ingredients


225g unsalted butter, softened
85g light brown soft sugar
85g dark brown soft sugar
180g golden caster sugar
400g plain flour
a pinch of salt
2½ tsp bicarbonate of soda
1/4 tsp freshly grated nutmeg
50g dried cranberries
70g toasted macadamia nuts, chopped roughly
grated zest of 1 orange
Method
Preheat the oven to Fan 170

°

C.
In a large bowl cream together the butter and sugars until pale and fluffy.
Meanwhile sift together the flour, salt, bicarbonate of soda and grated nutmeg.
Add the eggs one at a time to the creamed butter and sugar mixing well after each addition.
Now fold in the flour followed by the orange zest, cranberries and nuts until it forms a smooth dough.
Line 4 baking trays with greaseproof paper.
Form the dough into golf-ball sized balls and space well apart on the baking sheets. I only put 6 cookies on each tray.
Very slightly flatten each ball of dough with your hand before placing in the oven for 10 minutes.
The cookies should be golden brown around the edges but will still be very soft.
Leave to cool on the trays for 5 minutes before transferring onto a cooling rack.
Makes 20-24 cookies.