Recently I was lucky enough to win a copy of Eric Lanlard and Patrick Cox's unique little book Cox Cookies and Cakes courtesy of lovefood.com. The book is bursting with 75 fantastic recipes including some very original ideas. Due to recent madness I haven't had a chance to even scratch the surface on testing out all the lovely recipes. However, a couple of weeks ago I made these little cupcakes inspired by ones from the book. They have proved extremely popular with friends and family so I recommend you make them to achieve equal popularity!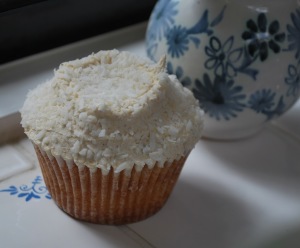 Ingredients


200g golden caster sugar
200g unsalted butter, softened
1 tsp vanilla bean paste
3 eggs, lightly beaten
2 tblsp milk
175g self-raising flour
½ tsp baking powder
50g dessicated coconut
for the icing


175g unsalted butter, softened
300g icing sugar
1 tsp vanilla bean paste
1 tsp cinnamon
dessicated coconut to decorate
Method
Preheat the oven to Fan 180

°

C and line a muffin tray with 12 large cupcake cases.
In a large bowl, cream together the butter, sugar and vanilla for a good five minutes until pale and fluffy.
In a separate bowl, sift together the flour and baking powder.
Gradually add the eggs to the creamed mixture until thoroughly incorporated followed by the milk.
Now mix in the sifted flour and baking powder and finally fold through the dessicated coconut.
Spoon the mixture into the cupcake cases and place in the oven for 20 minutes.
The cakes are ready when a skewer inserted into the middle comes out clean.
Leave the tin to cool on a wire rack for 5 minutes before removing the individual cupcakes to the rack to cool completely.
To make the buttercream, sift together the icing sugar and cinnamon and cream together with the butter and vanilla for 5 minutes until pale and fluffy.
Once the cakes are cooled, spread or pipe the buttercream on top and sprinkle with dessicated coconut.