I vowed to myself that I would have a week off baking cakes this week. Having said that, it is impossible to turn my mind off cakes and thinking up recipes. Yesterday evening I got the urge to try out this idea for a cherry and amaretti cupcake and as they only take minutes to knock up, I decided to break my promise and put my idea into practice. I have to say I'm pretty glad I did as they came out exactly as I'd hoped: a light and fluffy sponge with sweet cherries and almond essence topped with a rich icing, amaretti crunch and a sticky cherry on top!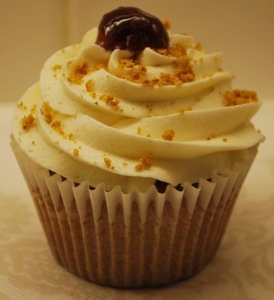 Ingredients


90g golden caster sugar
90g unsalted butter, softened and diced
2 medium eggs
90g self-raising flour
½ tsp baking powder
½ tsp vanilla extract
30g ground almonds
60g glacé cherries, ripped into pieces
1 tblsp amaretto
for the icing
250g icing sugar, sifted
80g unsalted butter, softened
2 tsp milk
4 tsp amaretto
optional garnish of crushed amaretti biscuits and glacé cherries.
Method
Preheat the oven to Fan 160

°

C and line a muffin tray with 6-8 large cupcake cases.
Sift the flour and baking powder into a large bowl.
Add the sugar, diced butter, eggs and vanilla extract.
Beat until smooth and even but don't overmix.
Fold in the ground almonds, amaretto and cherries.
Spoon into the cupcake cases filling about two thirds of each case and bake in the centre of the oven for 20 minutes.
Once they are well risen, springy to the touch and a skewer inserted into the middle comes out clean, remove from the oven and leave to cool on a wire rack.
To make the icing, cream all the ingredients together until pale and fluffy before piping onto the cooled cupcakes.
Garnish with crushed amaretti biscuits and half a glac

é

cherry.
Makes 6-8 cupcakes, depending on the size of cases you use.