Every Christmas, I like to make homemade presents for my family and friends. Not only is it cost effective but I also think that people appreciate the little personal touches. This year I've made my favourite biscotti and packaged them up in Kilner jars so that the recipients have something to keep after the gift has been gobbled!
This recipe is adapted from Nigella Lawson's cranberry and pistachio biscotti and uses an assortment of figs, cranberries, pistachios, almonds and macadamia nuts as well as a little aniseed kick from a scattering of fennel seeds.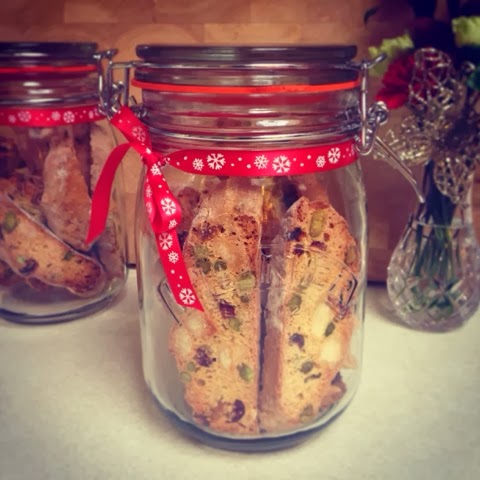 Ingredients
2 eggs
150g golden caster sugar
finely grated zest of 1 large orange
250g plain flour, plus more for rolling
1 tsp baking powder
pinch of salt
generous pinch of grated nutmeg
100g pistachios
25g blanched almonds
25g macadamia nuts
65g figs, diced into 1cm pieces
35g dried cranberries
1 tsp fennel seeds
Method
Preheat the oven to 180

°

C and line two baking sheets with parchment paper.
Whisk the eggs and sugar until pale, thick and aerated. The mixture should leave a ribbon-like trail so I would recommend using a free standing or hand-held electric mixer for this step.
Gently grind the fennel seeds in a pestle and mortar to break them up slightly.
Add the fennel seeds and the orange zest to the egg mixture and stir in gently.
Sift in the flour, baking powder, salt and nutmeg and gently fold until all of the mix is incorporated.
Finally fold through the nuts and fruit.
Generously flour the work surface and your hands and form the mixture into two logs before placing them onto the lined baking sheets. They should be approximately 25 x 5 centimetres in size and you should press down lightly to flatten the top of the logs.
Place the biscotti logs in the oven for 25 – 30 minutes until they are light golden brown in colour.
Transfer them to a wire rack to cool for 5 minutes to harden slightly.
Now transfer one log at a time to a chopping board and using a serrated knife, slice on the diagonal into pieces about 8 – 10 mm in thickness.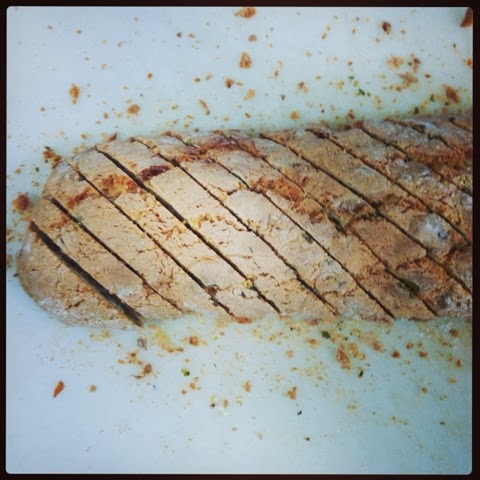 Place the slices back on the lined baking sheets and bake for 10 minutes before turning the biscotti over and baking for a further 5 minutes.
Transfer the biscotti to a wire rack and leave to cool completely before storing in an airtight container (or appropriate festive Kilner jar!)
Makes approximately 30 biscotti