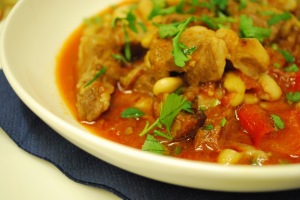 This recipe is always a winner for any occasion from a simple supper to a decadent dinner party. Slow cooking the pork for a couple of hours renders the fat so you end up with beautifully tender and soft meat suitable for any Jack Sprat.
This recipe will feed 8-10 but you can easily halve the quantities to serve 4 or just make a big batch and freeze it.
Ingredients


2 red onions, finely diced
5 large cloves of garlic, very finely chopped
1½ red peppers, roughly cut into inch sized chunks
1½ kg belly pork, skin and ribs removed, cut into inch sized chunks
260g chorizo, halved lengthways and then cut into chunks
400g baby plum tomatoes
2 tblsp smoked paprika
salt, pepper and chilli flakes, to taste
½ bottle red wine
1 tin chopped tomatoes
300ml boiling water
600g approx (drained weight) of mixed beans, (e.g. cannellini, flageolet, haricot, butter beans)
a bunch of flat leaf parsley, roughly chopped
Depending on how big your casserole dishes are, you may need to divide the mixture between 2 for this recipe. However make sure you stir the mixture altogether before serving, to ensure an evenly flavoured cassoulet.
Method
Preheat the oven to Fan 140°C.
In a large casserole dish over a low to medium heat, fry off the red onions in a little olive oil for 6-8 minutes until soft, adding the garlic in the last few minutes.
Add the red pepper and fry for a further few minutes before removing the contents from the pan and put to one side.
Turn the heat up to high, add a splash more olive oil, before adding the diced belly pork. Stir the meat around the pan until light brown all over.
Add the chorizo to the pan and stir for a few minutes until it starts to release it's red oils.
Return the onion, garlic and pepper to the pan along with the baby plum tomatoes and paprika.
Scatter over some salt, pepper and dried chilli flakes and give everything a really good stir.
Pour over the red wine, chopped tomatoes and boiling water.
Bring to the boil before putting a lid on and popping in the oven for an 1½ hours.
Remove the casserole dish from the oven and add the beans (which should be drained and rinsed).
Stir the beans through and return the dish to the oven without the lid for a further 30 minutes.
After the 30 minutes, give the cassoulet a final stir and check the seasoning before serving up and scattering with parsley.
Serve with salad and crusty bread.
Serves 8-10