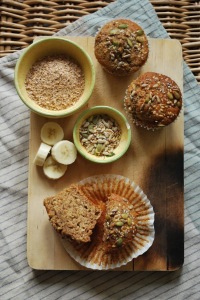 After what seems like a never-ending Winter, the weather is finally beginning to warm up and we can now begin to look forward to Summer! For many this means reluctantly parting with that big woolly jumper you've been hiding under for so long and starting to embark on some healthier eating habits to help get in shape. I'm currently researching a few recipes to share with you on the blog that are packed full of flavour and are good for you too!
First up are these Banana Bran Muffins, perfect for a healthy breakfast option or afternoon snack. They are a good source of fibre and protein and are low in saturated fat so are a great way to start the day!
Ingredients
2 large eggs
135g light brown soft sugar
2 medium bananas, mashed (approx 225g)
1 tblsp lemon juice
235 ml semi-skimmed milk
55g wheat bran (available from health food shop)
55g rapeseed oil
1 tsp vanilla extract
130g wholemeal flour
110g plain flour
1.5 tsp baking powder
0.5 tsp bicarbonate of soda
0.5 tsp mixed spice
pinch of salt
50g approx. omega seed mix for sprinkling (I used Neal's Yard Wholefoods "Omega Sprinkle" which contains a mixture of pumpkin, sunflower & sesame seeds with linseed & golden linseed)
Method
Preheat the oven to 200

°

C and line a 12 hole muffin tin with paper cases.
First of all sour the milk by adding the tablespoon of lemon juice to the milk, giving it a stir and leaving it to stand for a few minutes.
In a medium sized bowl, whisk together the light brown sugar and eggs until smooth.
Next whisk in the soured milk, wheat bran, rapeseed oil, mashed bananas and vanilla extract.
In a separate bowl, combine the remaining dry ingredients: both flours, baking powder, bicarbonate of soda, mixed spice and salt.
Make a well in the centre of the dry ingredients and pour in the wet mixture.
Stir together with a spoon or spatula until the ingredients are just combined. (You are not looking for a perfectly smooth batter here.)
Divide the mixture evenly between the 12 cases. Don't worry if they seem quite full!
Finally, sprinkle a few seeds over each muffin before placing them in the preheated oven for 15-20 minutes, until they are well risen, springy to the touch and lightly golden in colour.
Leave to cool in the tin for 5 minutes before transferring to a wire rack to cool completely.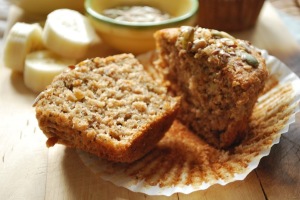 Estimated Nutritional Information per muffin

219 calories
8.0g fat (1.1g saturated fat)
4.1g fibre
5.8g protein