Monthly Archives:
July 2012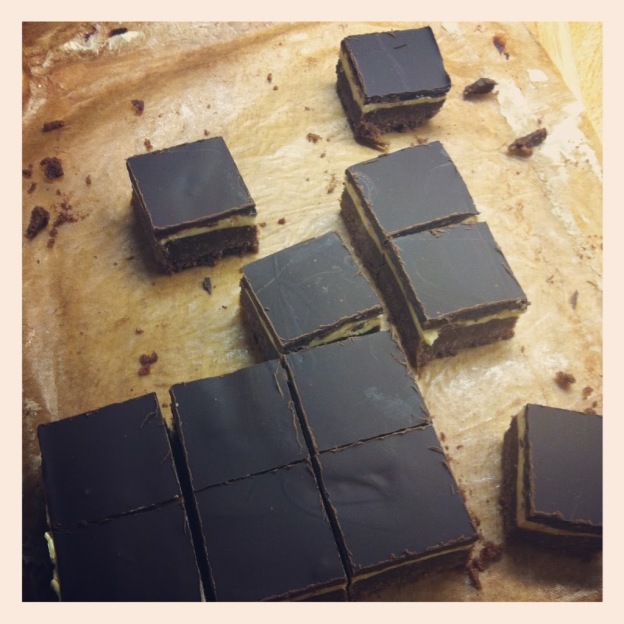 This is a twist on an old classic. I've added a layer of peanut butter buttercream to one of my favourite childhood recipes. You can use either crunchy or smooth – whichever you prefer.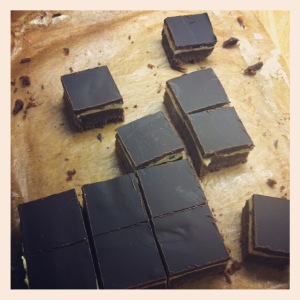 Ingredients
450g digestive biscuits
3 rounded tablespoons cocoa powder
200g unsalted butter
2 tablespoons caster sugar
2 tablespoons golden syrup
90g unsalted butter, softened
90g icing sugar, sifted
60g peanut butter
150g dark chocolate, at least 50% cocoa solids
Method
Grease and line an 11″x7″/27cmx17cm tin (or whatever you have of a similar size)
Blitz up the biscuits with the cocoa powder to a fine crumb.
Melt the butter, sugar and golden syrup together in a microwave or in a saucepan.
Mix the butter and biscuit mixture together.
Press the mixture into the tin evenly.
Place the tin in the fridge until firm.
To make the buttercream, cream together the butter and icing sugar until pale and fluffy and then beat in the peanut butter.
Spread the buttercream evenly over the biscuit base and put it back in the fridge to firm.
Meanwhile, melt the chocolate in a bain marie until smooth.
Remove the tin from the fridge and spread the melted chocolate evenly over the biscuit mixture.
Return to the fridge to set.
Once the chocolate has set, it is ready to slice. It will be easier to slice neatly once the chocolate has just set. After a few hours in the fridge, the chocolate will become more brittle. If this happens simply remove the biscuit cake from the fridge and bring it to room temperature by leaving it out for half an hour before slicing.
Makes 40 mini squares