Just a quick post today with some easy peasy white chocolate and cranberry cookies. You can knock them up in less than half an hour – perfect for an instant treat!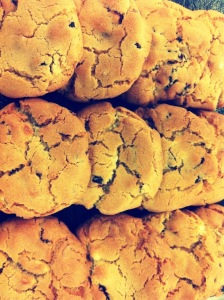 Ingredients
125g unsalted butter, softened
100g light brown soft sugar
100g golden caster sugar
1 tsp vanilla bean extract
1 medium egg
250g plain flour
½
tsp bicarbonate of soda
125g white chocolate chips/callets
125g dried cranberries
Method
Preheat the oven to Fan 180

°

C and line a couple of baking sheets with baking parchment.
Sift together the flour and bicarbonate of soda and set aside.
In the large bowl of a mixer with the beater attachment, cream together the butter, vanilla and both sugars until pale and fluffy.
Add the egg and mix until combined.
Fold in the flour mixture until just combined before finally folding through the cranberries and white chocolate.
Roll the dough into balls (about the size of a golf ball) and place on the baking trays well spaced apart.
Squash each ball slightly with your hand before placing the trays in the oven for approximately 8 minutes until lightly golden.
Remove from the oven and leave the cookies to cool for a few minutes on the tray to firm up slightly.
Once they have firmed, transfer the cookies to a cooling rack and leave them to cool to desired temperature.
Makes 18 cookies