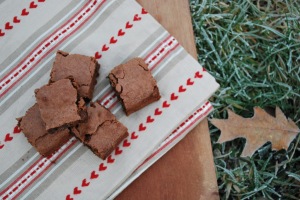 I have been on the quest for brownie perfection for sometime. I have tested out numerous people's recipes and despite all being delicious, none of them have been quite to my taste. After lots of trial and error, I have finally settled on my ultimate recipe. The amaretto is optional but it adds a wonderful depth of flavour to the brownies…
Ingredients
165g butter, roughly diced
235g dark chocolate 50% cocoa solids
265g golden caster sugar
3 medium eggs
165g plain flour
rounded
½
tsp baking powder
2 tsp instant coffee dissolved in 4 tsp boiling water
20ml amaretto (optional)
65g dark chocolate 50% cocoa solids, roughly chopped
Method
Preheat the oven to Fan 180

°

C and grease and line an 8″ square tin.
Break the 235g of chocolate into pieces and place in a microwaveable bowl along with the roughly diced butter, coffee and amaretto. Microwave in 20 second bursts, stirring inbetween each burst until the mixture is evenly melted and smooth. Alternatively you could gently heat the ingredients over a bain marie.
Meanwhile, place the eggs and sugar into the bowl of a mixer and using the whisk attachment whisk the ingredients until pale and double in size.
In a separate bowl, sift the flour and baking powder and set aside.
Once the egg mixture has double in volume, keep the mixer running on a low to medium speed and gradually pour in the chocolate mixture.
Whisk until fully incorporated before removing the bowl and folding in the sifted flour mixture by hand. Do this gently so as not to lose the air.
Finally, fold through the chopped chocolate before pouring the mix into the prepared tin.
Bake in the preheated oven for 15-20 minutes. This time will depend on your oven and how gooey you like your brownies. I cooked mine for 15 minutes for maximum squidginess.
Leave to cool completely before slicing into small squares.