After the success of my
Banoffee Cupcakes
, I thought it was time to go for a twist on a good old classic British pudding for these Sticky Toffee Cupcakes. Having made the royal wedding cake designer, Fiona Cairns'
recipe
before from her fabulous book
Bake & Decorate
, I have come up with my own version adapted from a Masterchef recipe. The buttercream is made from the same toffee sauce I used for my
Banoffee Cupcakes
. I recommend making up a batch of this delicious sauce and using the leftovers to drizzle over vanilla ice cream topped with toasted pecans or anything else you fancy really!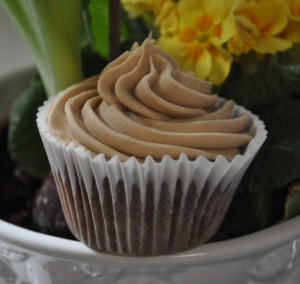 Ingredients
50g dates, chopped
1/4 tsp bicarbonate of soda
1 tsp vanilla extract
25g unsalted butter, softened
50g dark muscovado sugar
50g self raising flour
1/4 tsp baking powder
1 egg
for the icing
30g unsalted butter, softened
100g icing sugar, sifted
Method
Preheat the oven to 170

°

C and line a muffin tray with 6 large cupcake cases.
Place the chopped dates in a small saucepan and pour boiling water over them so that they are just covered.
Give the dates a stir and simmer over a low heat for 5 minutes until they are plump and softened.
Remove the pan from the heat, stir in the bicarbonate of soda and vanilla extract and set aside to cool.
Sift together the flour and baking powder and set aside.
Cream together the butter and sugar until pale and fluffy.
Add the egg and beat well to combine.
Gently fold in the flour followed by the cooled date mixture.
Spoon into the cases so that the mixture fills halfway and place in the oven for 15 minutes until the sponge is well risen ans springy and a skewer inserted into the middle comes out clean.
Transfer the cakes to a wire rack and leave to cool completely.
Meanwhile make the toffee buttercream by creaming together the butter, icing sugar and toffee sauce for 5 minutes until pale and fluffy.
Pipe or spread the buttercream onto the cupcakes et voila!