My mum always used to make the most delicious gingerbread loaf for tea when I was growing up. So I decided to dig out the recipe and use it as the basis for some little festive cupcakes. I have to say I am very pleased with the result!
And so I give you my mini gingerbread cupcakes topped with a spicy ginger buttercream and little pieces of crystallised ginger to give them that extra little kick!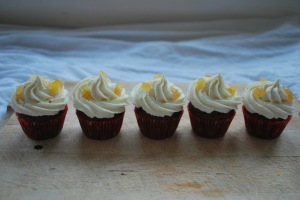 Ingredients
125g butter
175g treacle
50g golden syrup
140ml milk
2 eggs, beaten
250g plain flour
50g caster sugar
rounded 1/2 teaspoon of mixed spice
rounded teaspoon ground ginger
1/2 teaspoon bicarbonate of soda
40g sultanas
40g stem ginger, finely diced
Method
Preheat the oven to fan 160°C.
Put the sugar in a large bowl and sift in the flour, spices and bicarbonate of soda.
Put the butter, treacle, golden syrup and milk in a pan and warm it until the butter has just melted and the mixture has blended together.
Add the syrup mixture to the beaten eggs.
Add the wet mixture to the dry ingredients and mix well before stirring in the sultanas and stem ginger.
Spoon the mixture into a mini muffin tray lined with cases.
Place in the preheated oven for 12-15 minutes or until they have risen and are springy to the touch.
Leave the cakes in the tin for a few minutes before placing them on a cooling rack to cool completely.
Makes approximately 45 mini cupcakes. The mixture sits fine so don't worry if you have to cook it off in several batches.
For the buttercream…
200g unsalted butter, softened
300g icing sugar, sifted
ginger syrup (from the jar of stem ginger) to taste (I used approx. 4 tablespoons)
Cream the butter and sugar together until pale and fluffy. Gradually mix in the ginger syrup a tablespoon at a time until you reach your desired taste.
Finally, pipe the buttercream onto the cupcakes, top with diced crystallised ginger. I finished mine off with a sprinkling of red glitter for that extra festive sparkle!